Available Wherever You Are, Whenever You Need It
See how quick and easy it is to access your group benefits right from your phone!
Enrolling for mobile and web access to your Group Benefits is simple with the My Benefits app!
If you have received your Group Benefit ID Card, and your plan effective date has passed, tap Enrol Now on the My Benefits app login page to get started.
It will take approximately 5 minutes to set up your online profile and enrol. Once enrolled you will get immediate access to your Health and Dental benefits information.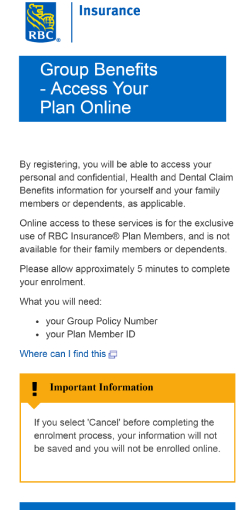 RBC Insurance. Group Benefits - Access Your Plan Online. By registering, you will be able to access your personal and confidential, Health and Dental Claim Benefits information for yourself and your family members or dependents, as applicable. Online access to these services is for the exclusive use of RBC Insurance Plan Members, and is not available for their family members or dependents. Please allow approximately 5 minutes to complete your enrolment. What you will need: your Group Policy Number. Your Plan Member ID. Important Information! If you select 'Cancel' before completing the enrolment process. your information ma not be saved and you will not be enrolled online.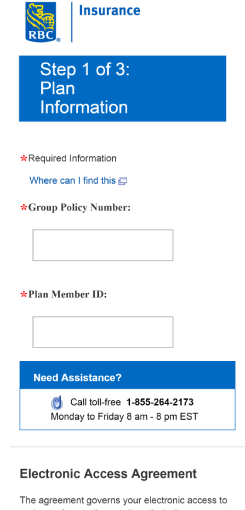 Step 1 of 3: Plan Information Form. Required Information: Group Policy Number and Plan Member ID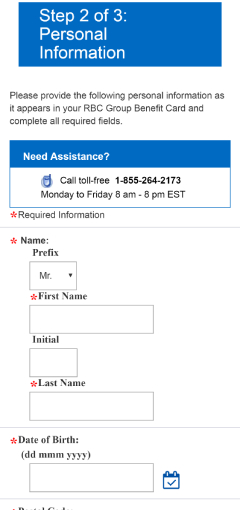 Step 2 of 3: Personal Information Form. Please provide the following personal information as it appears us your RBC Group Benefit Card and complete all required fields. Name: Prefix, First Name, Initial, Last Name. Date of Birth: (dd mmm yyyy)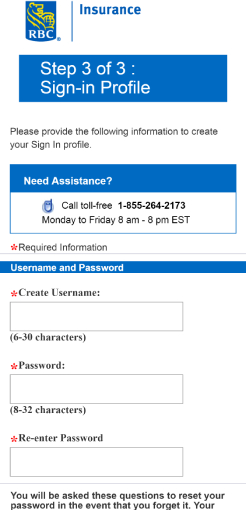 Step 3 of 3 Sign-in Profile Form. Please provide the follovang information to create your Sign In profile. Username (6-30 characters), Password: (8-32 characters). You will be asked these questions to reset your password In the event that you forgot It.
Some Helpful Features Available on the My Benefits App
NEW! See a summary of features recently added(opens modal window) to the app!
New Enhancements to the My Benefits App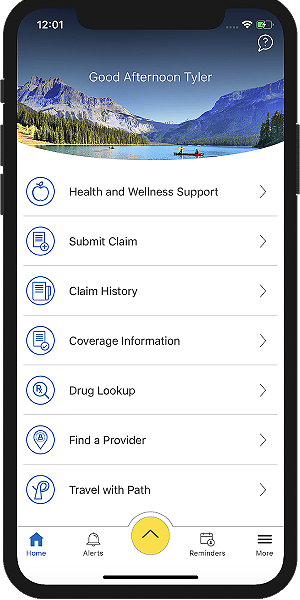 Thanks to user feedback, the My Benefits App has been updated to include the following improvements starting November 18, 2020:
New look and feel designed for easier navigation
Ability to submit dental and drug claims through the app
Alerts section now allows upload of photos if an audit is requested
Provider Search now customizable with new filters and favorites features
Quebec residents can enter RAMQ Vision payments received for dependents
Tap the menu icon on the top left corner of the home page and select "ID Card"
Submit claims through the app for faster processing.
Upload supporting documents for your claim (e.g. receipts) easily right from your mobile phone
View a claim's status or a summary of past claims
Check health claims eligibility and coverage details
From the home page, tap the "Find a Provider" icon to search providers by service location and type, including hospitals, clinics and pharmacies. You can apply filters to refine your search and flag your favourite providers for future searches.

All providers found in your search are registered with RBC Insurance and will indicate if they have the ability to bill RBC Insurance directly on your behalf (except for clinics and hospitals).

If your provider is not shown, call our health and dental claims line at 1-855-264-2174 to confirm a provider's eligibility prior to having services rendered.
When looking for pharmacies within the "Find a Provider" feature, you will also see a Pharmacy Quality Service rating for each result in your search.

This rating is the result of an evaluation of the pharmacy's performance on a set of evidence-based measures in three categories – adherence to medication therapy, chronic disease management, and patient safety. When choosing pharmacy care for yourself and your family, you may want to consider this as a factor in addition to convenience, cost and customer-service.
From the home page, tap the "Drug Lookup" icon to determine if a medication is eligible for coverage.
Simply, enter the drug name or 8 digit DIN (Drug Identification Number). You can also scan the DIN from a pill bottle or pharmacy receipt.
Tap on the "wellness" icon on the home page and you are on your way to getting healthier and being rewarded! No additional sign-on required.
View Health Spending Account balance information
Recover your user name or reset your password
Receive reminders about any pending claim audits that need your attention.
Access the support of the Employee Assistance Program with the click of one button
Connect to PATH App for assistance when you travel
Need Help with RBC Insurance My Benefits App?
Frequently Asked Questions
The RBC Insurance My Benefits app is free to download, access and use. Data changes may apply when using the app if not connected to Wi-Fi.
You can sign in with your existing Online Group Benefit Solutions Username and password.
If you are not enrolled for on-line access you can do so on the app by tapping "Enroll" on the sign-in page or by visiting, the Online Group Benefit Solutions sign in page and selecting "Begin Enrollment".
You can re-set your password:
From the My Benefits app sign-in page, tap on "need help signing in?"
From the Online Group Benefit Solutions sign in page, click on "Reset Your Password"
To recover your password you will need the following:
your Group Policy Number
your Plan Member ID
be prepared to answer your three Personal Verification Questions as well
Otherwise, please call us at 1-855-264-2173 Monday to Friday between 8 am - 8 pm EST.
You can recover your username
From the My Benefits app sign-in page, tap on "need help signing in?"
From the Online Group Benefit Solutions sign in page, Click on "Recover Your Username"
To recover your username you must have the following:
a valid email address on file with us
your Group Policy Number
your Plan Member ID
Otherwise, please call us at 1-855-264-2173 Monday to Friday between 8 am - 8 pm EST.
Online Group Benefit Solutions has a full range of services, information and tools available to you. Although the mobile app offers access to a variety of Group Benefits features from the convenience of your mobile device, some transactions and information can only be accessed online. You will need to sign into Online Group Benefit Solutions to:
Sign up for Direct Deposit (or change your current banking information)
View Benefit Booklet
Update your profile
Submit certain claims and supporting documentation such as Drug, Dental, Diagnostic Vision Test, Osteopath and select medical supplies
Submit audit requirement documents
Health and dental claims submitted through the app are processed in real-time. If you are signed up for direct deposit you will typically see any reimbursement amount deposited in 2-3 business days.
Drug claims are not processed real time. However submitting through the app is still a handy feature to help process your claim faster should your drug store not be able to submit the claim on your behalf or for coordination of benefits.
Note: If additional information is required at the time of claim, processing may take longer.
Yes, you must have coverage in order to access the features within the RBC Insurance My Benefits app.
Yes, once you have signed into the secure portion of the app your session will timeout after 30 minutes. After 25 minutes you will receive a warning message. After 30 minutes you will be signed out and will have to sign in again.
Yes, the information from each page is saved once you move onto the next step. When you return to submit your claim you will be asked if you would like to continue or start over.
The RBC Insurance My Benefits app relates to coverage through your employee benefit plan which is only available in Canada. As such, it is currently only available from the Canadian iTunes App Store and Google Play.
The RBC Insurance My Benefits app is available on all Canadian mobile service providers.
Apple: Available in the App Store. Requires iOS 9.0 or later.
Compatible with iPhone.
Android: Available in Google Play. Requires OS 7.0 or later.