Save More on Car Insurance for Ontario Drivers
Discover great rates, expert advice, and a range of insurance coverage options to help you find the protection that's right for you and your car.
How to Save on Car Insurance in Ontario
Bundle your home and auto insurance policies
Insure multiple vehicles
Install winter tires
Preferred group insurance rates
Retiree discount
Drive safe and save
Save up to $715 on Combined Home and Auto Insurance
Save big when you bundle auto insurance and coverage for your primary residence.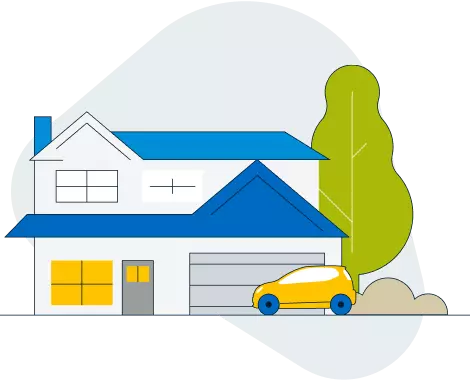 Advantages & Benefits
Get these benefits with your car insurance, no matter what coverage you pick.
Quick and Simple Claims Process
Friendly representatives make the claims process quick and convenient.
What's Included & Optional Coverage
We've got you covered for everything required by the law in Ontario:
Liability Coverage
Helps protect you financially if you are legally liable for injuring someone or causing damage to another person's property while driving your vehicle.
Accident Benefits Coverage
Replaces lost income, pays for medical or other expenses and may provide a death benefit to loved ones if a covered accident were to happen.
Uninsured Motorist / Uninsured Automobile Coverage
Helps pay for the costs of repairs if an uninsured driver is at fault. Benefits are provided if you or your family are hurt or kiIled in an accident caused by an uninsured driver.
Direct Compensation for Property Damage Coverage
Will repair or replace your vehicle (or its contents) if you're involved in a collision in Ontario and aren't at fault.
Optional Coverage to Protect Your Vehicle
Explore a range of additional important auto insurance coverage to protect your vehicle, recommended by RBC Insurance.
Collision coverage
Pays for the cost of repairing or replacing your vehicle up to the actual cash value if it collides with another vehicle or an object.
All Perils coverage
A combination of Collision and Comprehensive Coverage that also insures your vehicle against loss or damage if it's stolen by someone living in your home or by someone you hired to drive, service, or repair your vehicle.
Additional Enhanced Coverages
Enjoy even more peace of mind with these affordable options.
What Additional Optional Car Insurance Benefits Are Available in Ontario?
Alternate Transportation Benefits
The Loss of Vehicle Use coverage helps pay for a rental car or other transportation if your vehicle is being repaired or replaced due to a covered accident.
Roadside Assistance
Provides comprehensive emergency roadside and driver assistance to help when you need it most.
Protection for Your First At-Fault Accident
The Accident Rating Waiver coverage protects your driving record and premiums from being affected by your first at-fault accident if you've had a license and been claims-free for at least 6 years.
Disappearing Deductible
Reduces your policy deductible by 20% for each year your vehicle is claims-free.
Worry-Free Bundle
Includes the Accident Rating Waiver, Disappearing Deductible, and additional coverages when you're driving vehicles you don't own.
Frequently Asked Questions
Because each person's situation is unique, there isn't a single answer to this question. Insurance companies calculate your car insurance premium taking into account a variety of factors:
Type and amount of coverage you want,
Make, model, and year of your vehicle
Your driving record—including claims and traffic ticket convictions
Where you live, and
Vehicle use (business, commuting, or pleasure driving)
The following coverages are mandatory in Ontario:
Liability coverage
Accident Benefits coverage
Uninsured Motorist or Uninsured Automobile coverage
Direct Compensation for Property Damage coverage
You can also add other coverages for even more protection. Your policy becomes effective after you select your coverages and pay your first premium.
Vehicles that are less expensive to repair will typically cost less to insure.
Tip: If you're shopping for a new car and looking for the best insurance value, an RBC Insurance advisor can give you a no-obligation quote for each of the models you're considering.
You may be able to add additional drivers to your policy. Speak with an RBC Insurance advisor to help you find the right coverage for you and to learn more about who else might be eligible to drive your vehicle.
In Ontario, you cannot register a car and get license plates without insurance. Proof of insurance usually comes in the form of an insurance pink slip.
No, the Ontario government does not charge harmonized sales tax (HST) on car insurance.
Learn More About Car Insurance

(opens new window)